Red E is a growing engineering services company led by a dedicated team of professionals based out of Fargo, North Dakota - USA with a global footprint.
What Makes

Red E

Stand Out
In a sea of engineering companies, Red E stands out with an ability to deliver in all aspects of engineering, program and technical requirements. Our goal is to help you be successful, because we know that your success is our success. Trust, confidence, and integrity are important to us. We want our customers to know that when we say we will deliver on something, we will deliver better.
At Red E we focus on your needs by understanding your pain points and finding out what you and your customers need as a solution.
We strive to communicate well and make sure your experience is enjoyable.
Red E has multiple Professional Engineers on staff, our own fabrication and prototype shop, and we are not afraid to put boots on the ground and get our hands dirty.
With analysis tools, a 3D printer, and a prototype shop, Red E has all the tools under one roof.
Red E has connections in the industry that help us validate your products.
Our team has strong technical aptitude, a common sense hands on approach, and the flexibility to travel anywhere and anytime as project demands require. Our engineering team has an advanced educational background coupled with extensive work experience and multiple prestigious industry certifications.
We are your North Dakota Professional Engineers.
What You Need To Know About

Red E
Red E, LLC is a North Dakota based engineering firm founded in 2012. We are strategically located in a strong manufacturing friendly region of the country. The founders of Red E come from large equipment manufacturing companies where they learned what it took to deliver on both simple project needs and on demanding large scale production requirements with robust process controls.
Red E's unique advantage comes through a broad range of expertise and services offered under one roof where we can take a project from a sketched concept to a manufactured product quickly and efficiently. We can assist with a specific part of the product development process, be a value-add partner in a larger design group, or provide complete engineering and manufacturing solutions to your project.
With over 10 years in the engineering industry, our clients choose Red E for the full range of engineering solutions. Our team provides services in such areas as Product Design, Manufacturing Support, Reverse Engineering, 3D Printing, Prototyping, Component and Part Sourcing, and Advanced Engineering Services such as Computational Analysis and Professional Engineering (PE) certification. Over the years, the engineering professionals at Red E have worked on hundreds of engineering projects spanning wide ranges of industries and technical expertise.
What makes us stand out at Red E is that we work hard to meet the needs of our customers by providing High Quality Products and Services with Integrity, Timeliness, and Diligence. Our strong focus on Leadership, Purpose, Opportunity and Growth gives our team the energy to move forward with confidence.
Red E, LLC has affiliations with several organizations including:
SAE International
Minn-Dak Manufacturers Association (MDMA)
Chapter 4 F-M Engineers
International Fluid Power Society (IFPS)
American Society of Mechanical Engineers (ASME)
Our team members have the following certifications:
Registered Professional Engineer (PE)

Certified Fluid Power Specialist (CFPS)

Six Sigma Green Belt Certified

Certified SolidWorks Professional (CSWP)

Private Pilot License Holder

Commercial Driver License (CDL) Holders
Each team member is encouraged to be active in the local community.
Most Red E team members are very active within their local communities and love to serve people in volunteering time, giving of their resources, and going on trips that help others around the world.
GOOD ALONE, EXCELLENT TOGETHER.
Red E started with the vision and goal of two twin red-headed brothers who grew up spending countless hours out on the farm learning the value of hard work and what it meant to earn something you've worked hard for.
It wasn't just basic life that was shared but rather a passion to help people and to do all things well.
Together they studied Mechanical Engineering at North Dakota State University in Fargo, ND where they initiated a dream to build a business as good as its customers.
In 2012 the vision to launch a company transitioned from a simple dream to that of a reality. A growing interest in the special needs of small companies and local farmers inspired one of the brothers to start Red E, LLC. Headquartered in Fargo, ND – USA, Red E has grown from 1 person and a single rented office room into multiple team members with a large office space and a prototype shop to be able to meet the growing needs of customers.
Every new customer we meet adds to our growth as we provide excellent products and services to help them succeed. The phrase "Good Alone, Excellent Together" defines the synergies of the team at Red E and applies to the approach Red E takes with its customers. You can be good alone but partnered with high-quality people together excellent things can happen.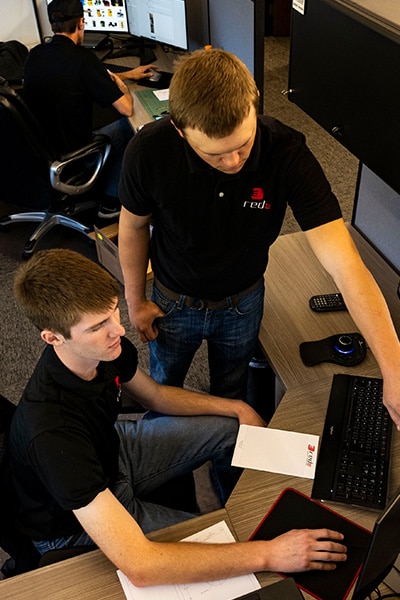 December 2012: Red E, LLC launches and incorporates in West Fargo, ND USA
2013: Red E moves into new expanded office to meet growing needs of customers
May 2014: Both Matt and Jesse obtain Registered Professional Engineer status - the highest level of proficiency in the Engineering field.
October 2015: Twin brother Jesse joins Red E as Vice President to grow the vision of Red E
June 2016: Red E Expands Internationally
September 2016: Over the past 4 years, Red E has completed over 150 projects
January 2018: Red E featured in several publications. AgWeek.com InForum.com WDAY.com AgWeek TV
September 2018: Red E launches its Performance Ag Parts website RedE-Ag.com
September 2019: Red E featured in U.S. Department of Commerce publication Commercial Service on how Red E is now repairing seeders in Ukraine
May 2020: Red E moves its headquarters to 2700 7th Avenue N, Fargo, ND 58102, USA
August 2021: Red E is ranked #923 out of Inc 5000's Fastest Growing Companies
December 2022: Red E celebrates 10th anniversary in business
April 2023: Matt and Jesse Faul, owners of Red E, are selected as Small Business Person(s) of the Year for the state of North Dakota
August 2023: Red E is ranked #1962 in Inc 5000's Fastest Growing Companies
"Red E has been a valuable source for custom metal fabrication in our homes. Their level of professionalism, service, and dedication to high quality craftsmanship allows for a smooth process and an exceptional finished product."
David Reid, President
E

ngineering.

E

xcellence.

E

xperience.

E

xpertise.
North Dakota Professional Engineers
Red Engineering (Red E) is a growing mechanical engineering firm. Our Professional Engineers in Fargo, ND, have experience in many mechanical engineering fields and travel around the world to design custom engineering solutions for manufacturers. Red E is the professional design engineer you need.