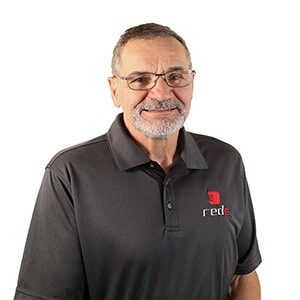 Marvin joined the team at Red E as a Senior Technical Advisor and assists and advises on difficult product challenges and manages implementation of prototyping and proof of concepts.
As products are engineered, Marvin takes the design to the real world of steel and parts to problem solve any future complications before production.
Coming to work in nice clothes doesn't stop Marvin from getting his hands dirty with difficult problem solving in the prototype shop. No job is too difficult for him. In fact, tell him it isn't possible, and he will grin and figure out a way to make it work. That is just how it was growing up on the farm in Harvey, ND.
With a high quality mindset, Marvin approaches tasks working hard to minimizing costs while still providing the best value to the customer. If there is a way to save valuable time and money, he will figure out the way to make it work for you.
NDSU - Agricultural Engineering
Working on his hobby farm, spending time with family, investing in his local church
E

ngineering.

E

xcellence.

E

xperience.

E

xpertise.
North Dakota Professional Engineers
Red Engineering (Red E) is a growing mechanical engineering firm. Our Professional Engineers in Fargo, ND, have experience in many mechanical engineering fields and travel around the world to design custom engineering solutions for manufacturers. Red E is the professional design engineer you need.